Whether you have never been to Anchorage or it is one of your favorite travel destinations (or you are a local looking to mix up your dinnertime routine), incorporating ingredients and recipes native to Alaska is a great way to expand your culinary horizons. Try any of these recipes and you feel like you've taken a small vacation to Anchorage.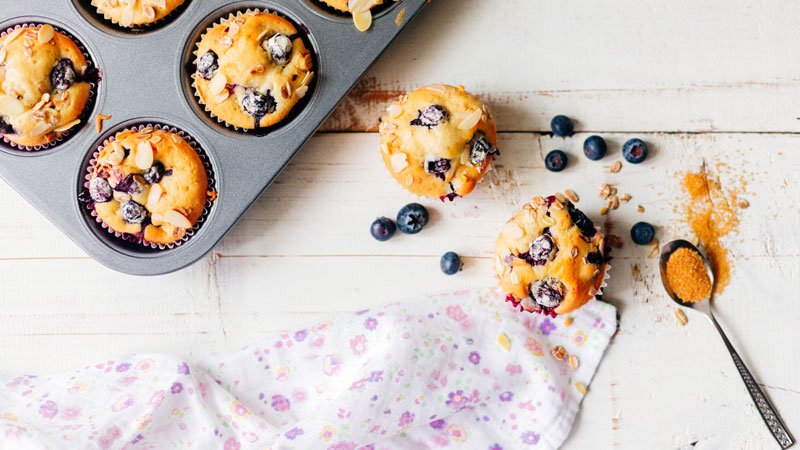 Alyeska Blueberry Muffins
Makes 8 servings, ready in 30 minutes
Highbush blueberries grow more abundantly than their lowbush counterparts and are not as sweet, making them the perfect addition to these muffins. They favor cold winters, making them a common sight in not only Alaska but also the northern contiguous United States.
Muffin ingredients:
1 ½ cups all-purpose flour
¾ cup white sugar
½ tsp. salt
2 tsp. baking powder
1/3 cup vegetable oil
1 egg
1/3 cup milk
1 cup fresh Alaska High Bush Blueberries
A pinch of cinnamon (optional)
Butter, shortening, or cooking spray to grease the pan
Crumb topping ingredients:
½ cup white sugar
1/3 cup all-purpose flour
¼ cup butter, cubed
1 ½ teaspoons ground cinnamon
Preheat oven to 400º F. Grease 8 muffin cups or line the cups with muffin liners. Combine flour, sugar, salt, and baking powder. Place vegetable oil into a 1-cup measuring cup; add the egg and then add enough milk to fill the cup. Combine with flour mixture and then fold in blueberries. Fill muffin cups to the tops, and sprinkle each with the crumb topping mixture. Bake for 20-25 minutes, or until a toothpick inserted in the center of the muffins comes out clean.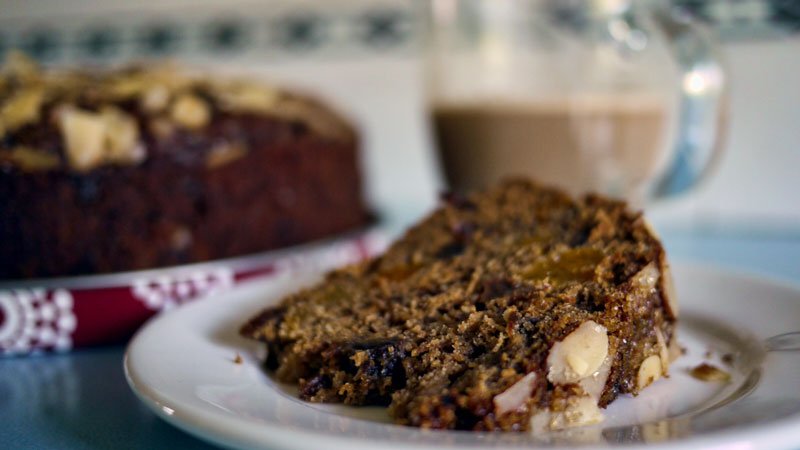 Rhubarb Crumb Coffeecake
Makes 16 servings, ready in 1 1/2 hours
Rhubarb's naturally bitter flavor pairs well in sweet recipes such as pies and this crumb-topped coffeecake. It is in season April through June.
Coffeecake ingredients:
2 cups flour
2 teaspoons cinnamon
¼ teaspoon nutmeg
4 cups chopped rhubarb (can use fresh or frozen; note cooking times below)
1 ½ cups granulated sugar
½ cup butter, softened
2 eggs
1 teaspoon baking soda
1 cup buttermilk
1 teaspoon vanilla
Shortening or butter to grease the pans
Crumb topping ingredients:
1 cup flour
½ cup brown sugar, packed
1 teaspoon cinnamon
½ cup cold butter
Preheat oven to 350º F. Grease two 8-inch pans with shortening or butter. In a small bowl, combine flour, cinnamon, nutmeg, and rhubarb. Set aside. In a large bowl, beat together sugar, butter, eggs, baking soda, buttermilk, and vanilla. Add dry ingredients and mix until just combined. Pour into prepared pans.
Prepare crumb topping, combining ingredients with a fork or pastry blender. Sprinkle cake batter with a crumb topping and gently press it down. Bake for 40 minutes if using fresh rhubarb, and 50 minutes if using frozen rhubarb.
Beer-Battered Alaska Halibut
Makes 6 servings, ready in 45 minutes
Alaska halibut is best known for its mild, slightly sweet flavor and adaptability in recipes. This recipe is best served with Alaska Yukon Gold potato chips and coleslaw made from giant Alaska cabbages.
1 12-ounce bottle of beer—Alaskan Pale Ale or similar
1 cup flour
1 egg, beaten
1 teaspoon baking soda
½ tablespoon mustard
¾ teaspoon salt
½ teaspoon pepper
1 ½ pounds halibut filets
Vegetable oil for frying
Cut halibut fillets into approximately 1.5" cubes. Mix dry ingredients and add egg. Pour beer until batter is smooth and runny, but thicker than water. Add oil to a frying pan, approximately half of the height of the halibut cubes. Heat on medium-high until bubbling.
Test one piece: coat halibut in batter, add to oil, fry for four minutes two minutes on each side, flipping with tongs. Using a fork, split the piece in half to check for doneness; if it does not split easily or the middle of the piece is not opaque, it is not completely cooked. Repeat this process with remaining halibut pieces. Serve warm with tartar sauce.
Salmon Cakes
Makes 10-12 servings, ready in 2 hours
Five different species of salmon are native to Alaska. These salmon cakes make a great alternative to traditional hamburgers or can be served as a main course similar to how you might enjoy crab cakes. Try making them miniature-size for the perfect appetizer.
3 cups cooked and flaked salmon, bones removed
2 cups shredded hash browns
1 cup diced onion
1 cup bell pepper, diced
2 cloves garlic, minced
2 jalapeño peppers, seeded and diced
1 tablespoon spicy brown mustard
1 egg, beaten
1/3 cup mayonnaise
1 tablespoon dill—can use fresh or dried equivalent
1 teaspoon each salt and pepper
Panko
½ tablespoon red pepper flakes—optional; can also omit jalapeño peppers and add more red pepper flakes instead
1 tablespoon each butter and olive oil, plus additional olive oil for cooking
Sauté the onion, pepper, and jalapeño in 1 tablespoon each butter and olive oil until fork tender but not browned. Add the garlic and sauté for an additional two minutes. Remove from heat, place in a large bowl, and allow to cool completely.
To the bowl, add the salmon and hash browns. Add in the mayonnaise, mustard, egg, dill, salt, pepper, and red pepper flakes. Add more mayonnaise as needed. Mix until just combined.
Form into 10–12 patties. Roll in panko and cook in olive oil until browned on both sides are heated through.
Both natives and tourists alike will find Alaskan cuisine fresh, flavorful, and unique. These recipes highlight ingredients unique or native to the region – such as halibut, salmon, wild blueberries, and rhubarb – to create new, delicious dishes that the whole family is sure to enjoy. Try something new for dinner tonight and consider it a brief trip into the Alaska wilderness.