If the current global climate has your travel plans on hold, no need to stop exploring. Virtual tourists can visit Anchorage, Alaska without ever leaving the comfort of your home. Here are a few livestream opportunities and interactive experiences you can explore 24 hours a day to put together your virtual vacation. This a great opportunity to "travel" with kids and teach them more about the world around them.
In the heart of downtown Anchorage is Town Square Park, and you can jump right into the park via a Borealis Broadband livestream. In the summertime, the area is full of flowers and features live concerts as well as family-friendly events. In the winter, visitors can enjoy ice sculptures and a public skating rink. On the livestream, keep your eyes peeled for holiday lights, colorful flowers, the Alaska Center for the Performing Arts, or the occasional wildlife visitor.
Fourth Avenue is the center of downtown Anchorage and a year-round visitor destination no matter your interests. There is always a lot going on here, including historic City Hall, the Visit Anchorage Log Cabin Visitor Information Center, Anchorage Trolley Tours, and the ceremonial starting point of the Iditarod. A handful of the city's 223 parks are located in the vicinity as well. You can jump into a livestream view for a front-row seat to all of the excitement. Eagle-eyed virtual visitors will be able to spot the city's famous statue of Balto.
Even before Alaska was recognized as a state, the Anchorage Symphony Orchestra has been performing for local audiences and has only grown in size and skill since. Its home base is the Alaska Center for the Performing Arts in downtown Anchorage. However, visitors from around the world can now tune in to a virtual version of the 2019-20 season finale featuring works by Tchaikovsky, Ravel, Rossini, and more.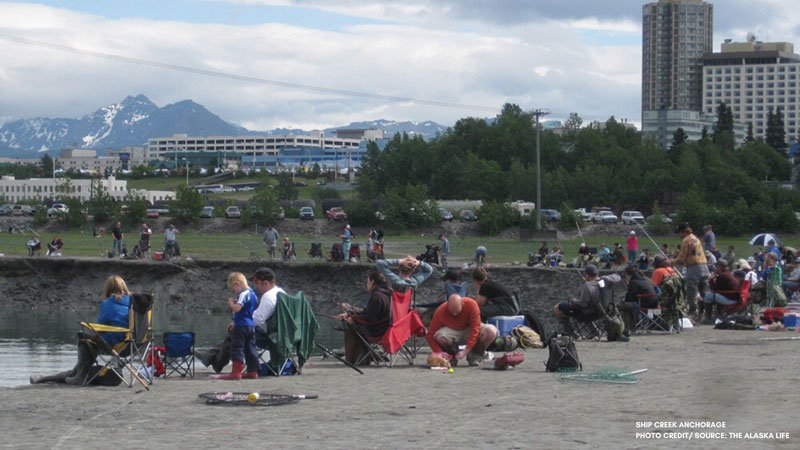 Located just north of Fourth Avenue, Ship Creek is the most popular urban salmon fishing site in Anchorage. It is also a great location to spot shorebirds and ducks. Between June and September, tourists and locals alike can watch anglers catch massive salmon in the midst of downtown or visit the hatchery. In the wintertime, jump on to Google Maps to watch the sheets of ice covering the inlet.
The Anchorage Museum is an art, history, ethnography, ecology, and science museum dedicated to studying the people and history of Alaska, making it a great stop for those interested in history and culture. Some exhibits and elements of the Anchorage Museum are available for virtual visiting in partnership with Google Arts and Culture. The main focus right now is the online exhibit ILATKA: The Inuit Word For My Relatives, in addition to over 200 photographs available for browsing.
This is the busiest seaplane base in the country and is home to hundreds of aircraft. It is open to the public and handles an average of 190 flights per day. Clear weather means you can enjoy perfect views of the Alaska Range and other mountain ranges in the area. During the winter, the surface of the frozen lake is maintained for ski-equipped planes. You can tune into a livestream to watch planes take off and land, take in the mountain scenery, and spot the Northern Lights or the occasional moose.
The state of Alaska has more planes and pilots per capita than anywhere else in the country. You can learn more about the state's rich history of aviation at the Alaska Aviation Museum located on the shores of Lake Hood. The museum is composed of four hangars full of educational exhibitions and vintage aircraft to be explored. Virtual visitors can explore dozens of the exhibit aircraft online, including photos and a historical background of each piece. This is a perfect stop for kids as well as air travel enthusiasts.
The Alaska Zoo is a popular tourist destination each year with over 200,000 visitors annually and is home to over 50 species of animals and birds. Even though the zoo is currently closed to visitors, you can watch beloved resident polar bear Cranberry explore her enclosure via livestream—appealing to kids and adults alike!
This livestream is powered by the State of Alaska Department of Natural Resources. The Glen Alps Webcam lets you take in a real-time view of one of the most popular trailheads in Chugach State Park. There is also a second webcam that features a view of the mountain summits.
Surrounded by idyllic Alaska scenery, Seward Highway runs south for 125 miles from the city of Anchorage along Chugach State Park and the Turnagain Arm coast down to the city of Seward located on the Kenai Peninsula. It has been designated a National Forest Scenic Byway, an All-American Road, and an Alaska Scenic Byway. It is traditionally famous for its wide variety of outdoor activities and opportunities to spot beluga whales. If you do not want to visit in person, you can use Google Street View to explore lush forests, jagged mountain peaks, peaceful lakes, and foggy mountain passes.
For over 60 years, this nonprofit Musk Ox Farm has promoted sustainable agriculture in the local community and supported the domestication of the musk ox. They have moved their daily tours to live features on their Facebook page. This virtual experience will help you learn about sustainable farming practices, the production of wool, and the largest captive herd of musk oxen in the world. You can also shop their unique gift offerings online.
Anchorage, Alaska makes a great travel destination for the entire family whether it's virtual or in person. There is plenty to see, do, and learn about no matter your interests. The adoption of technology by many local staples has made accessing new places easier than ever before, and now is a great time to take advantage of virtual options in order to add a new destination to your bucket list.